Orthodontists are highly trained dentists who specialize in the diagnosis, prevention, and treatment of dental and facial irregularities. Such misalignment of the teeth and jaws is referred to as "malocclusion," or "bad bite." The most common orthodontic problems are protruding upper teeth, overbite, open bite, and irregular spacing. These problems can be inherited or acquired, and it is best when they are detected early. To correct malocclusion, orthodontists often treat patients through the use of braces and by designing corrective appliances. The goal of these treatments is to realign the teeth and jaws, restore facial balance, and prevent further health problems. 
Fortunately, dental braces have come a long way – today's dental braces look, feel and function better than ever. Along with traditional metal braces, there are now a variety of dental braces to fit every need and budget. Clear dental braces use an innovative sliding technology instead of wires and have small, clear brackets that are virtually invisible. Invisible dental braces don't use brackets at all; they include a customized set of clear plastic aligners that can be removed while eating, drinking, brushing and flossing. If a beautiful, straight smile is what you're after, you can't go wrong with dental braces – no matter what your age!
INVISALIGN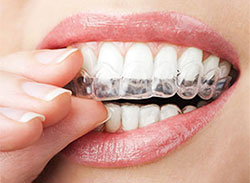 No matter what age you are when you start thinking about getting braces, the idea of sporting a mouth full of brackets and wires is probably a turnoff. Fortunately, there's a cutting-edge solution for you. Bay Area Dental Specialty is an orthodontics center that offers
Invisalign braces
to the people of Oakland.
INVISALIGN: REALIGN YOUR TEETH INVISIBLY
Let our Invisalign certified orthodontists perform orthodontic magic for you: They'll straighten your teeth with practically invisible treatments. Invisalign braces are not detectable. They use a transparent substance to do the same work as brackets and wires, which means no ugly smile and no self-consciousness.
LIVE YOUR LIFE WITH CONFIDENCE
With Invisalign, Bay Area Dental Specialty offers you the chance to undergo the orthodontic treatment you want or need without sacrificing your self-confidence. It's no wonder that so many people do not like braces: The wires are unsightly and uncomfortable, and they don't exactly work wonders for your self-esteem. Because Invisalign is invisible and removable, you'll be able to undergo treatment in a manner that makes you more physically and emotionally comfortable. Give Bay Area Dental Specialty a call today to set up an appointment for an Invisalign consultation.