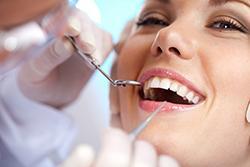 Periodontics is the field of dentistry that specializes with the diagnosis and surgical and non-surgical treatment of diseases and conditions of the gums.
More than 80% of adults have some form of gum disease. Fortunately, there are many effective and pain-free gum disease treatments. For gingivitis, the mildest form of gum disease, treatment typically involves a thorough dental cleaning, followed by daily brushing and flossing. Advanced gum disease, also known as periodontal disease, requires scaling and root planing to remove stubborn deposits below the gum line. Laser gum surgery, a new alternative to scaling and root planing, uses beams of high-speed light to remove plaque and tartar buildup. If non-surgical methods of gum disease treatment are ineffective, a gingivectomy, or periodontal surgery, may be necessary.
Our periodontists are experts in the management of patients with periodontal diseases including all forms of
gingivitis
,
periodontitis
and gingival recession, as well as the surgical placement and long-term maintenance of dental implants.
Services include:
Bone grafting
Crown lengthening
Gingivectomy
Gingioplasty
Osseous surgery
Periodontal scaling